Our Products:
Our Products:
Brands
Brands
Outdoor Fireplace Information
Thank you for your interest in a frame to build an outdoor fireplace around your firebox. To help insure a proper sizing and fit, please print, fill in your dimensions as best you can, and send this form to us along with your request.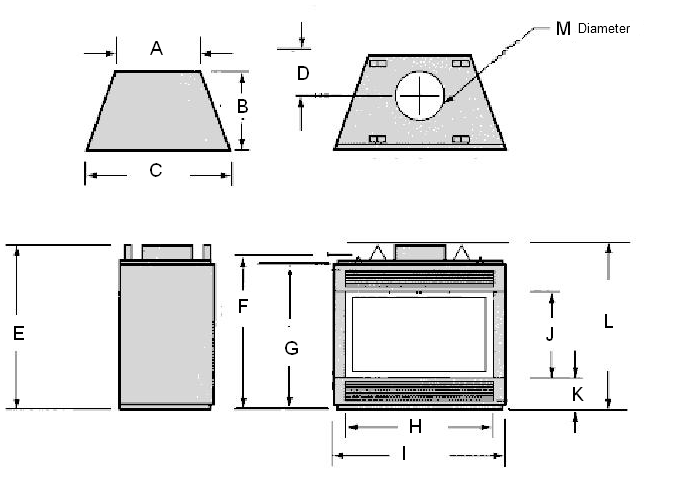 A _____ Firebox Outside Width - at rear
B _____ Firebox Overall Depth - front-to-back
C _____ Firebox Outside Witdh - at front
D _____ Dimension from Rear of Firebox to Center of Flue Opening
E _____ Overall Height of Firebox (above tallest spacers)
F _____ Overall Height of Firebox (at Front behind frame, if different)
G _____ Overall Height of Firebox Front Frame
H _____ Firebox Louver or Opening Width
I _____ Overall Width of Firebox, at Front (may be same as C)
J _____ Firebox Opening Height (may include 3/4" to 1" metal framing)
K _____ Height from floor to bottom of Firebox opening
L _____ Height to top of Flue Collar (if different than Dimension E)
M _____ Diameter of Flue Collar and/or Size of Flue Pipe required by firebox
Thickness of material you plan to use for your hearth: ____________________
Model Number & Brand of Outdoor Fireplace: __________________________
WARNING: To help insure proper draft and reduce fire hazard risks that can cause damage and/or loss of life, your chimney should terminate no less than fifteen feet above the floor on which the fireplace rests and the top of a wood burning fireplace chimney needs to be at least 2-feet above any structure (including any part of a roof) that is within 10 feet of the top of the chimney cap. The chimney must not terminate less than 3-feet above where it exits the roof. To avoid the risk of fire, always follow any applicable local codes and/or instructions that are furnished with a factory built zero-clearance fireplace and the Class A flue pipe. If in doubt, refer to NFPA 211 Standards for Chimneys and Fireplaces. If you are going through a overhead construction (e.g., ceiling and/or roof), you must maintain a minimum of 2 1/2" clearance to combustible materials all around the perimeter of 'Class A' chimney pipe from the point at which it exits the fireplace.

Return to our Outdoor Fireplace Frame product page
Contact www.DesignTheSpace.com phone: 866-983-3267 Fax: 205-449-4430 info@designthespace.com