Our Products:
Our Products:
Brands
Brands
Wainscoting Plank Kit WK-46 | 51 to 55" Tall
Wainscoting Plank Kit WK-46 | 51 to 55" Tall
| Total Quantity | Base price per unit |
| --- | --- |
Discounts will appear in cart
Total quantity of 4x8 paneling in cart determines price per panel.
List price reflects purchase of at least 15 units.
Product Description
Click here to see a Component Parts Specification Illustration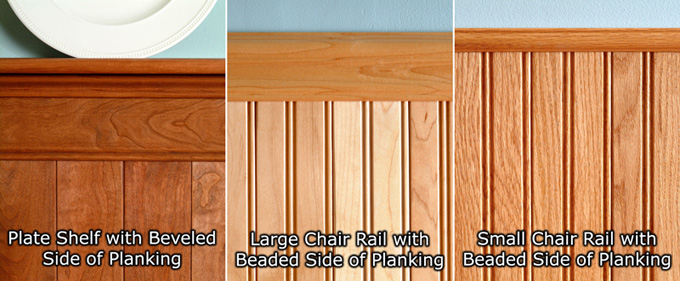 Planks = 3 3/8" x 46" x 5/16" (Exposed Plank = 45 1/2" x 3 1/4")
Base Molding Height = 5"H x 7' 6"
Small Chair Rail Height = 3/4"H
Large Chair Rail Height = 3"H
Plate Shelf = 4 3/4"H x 3"D
Approximate Finished Heights of the WK46 (cut planks on site to reduce your finished height, if desired)
With Small Chair Rail: 51" Tall
With Large Chair Rail: 53 1/2" Tall
With Plate Shelf: 55" Tall
Our medium height DIY Wainscoting Beadboard Plank Kit will add stylish beauty to any room with very little work! Each WK46 kit contains 29 individual 3 3/8" wide x 46" tall tongue and groove planks, Baseboard molding and the top rail molding of your choice (all factory-ready for installation) to create a 7' 6" linear length. The overall height of the kit is dependent upon which top rail style you purchase and how much of the planking length you cut off on site, if any. Select either the small chair rail, large chair rail, or plate shelf as you choose options below. Wood choices include a paint grade poplar, red oak, maple, mahogany, cherry and walnut; all solid woods, not particle board or pressed wood.

The kits include a simple beveled plank design on one side and a (1 5/8" on center) bead board wainscot design on the reverse side and you choose which side to be finished and which side to show! Select shoe molding, too, if desired.
Incorporate wainscoting or planking throughout your home as a unifying element, to complement any style, whether modern, traditional or anything in between. It is an easy DIY project with a professional look, with solid wood planking ready to install right out of the box! Note, some white planking in some of the alternate images are shown to represent color and basic design style, not to illustrate the actual plank or bead pattern.
Don't forget to order optional inside and/or outside corner trims or shoe moldings. How to Install Classic Tongue and Groove Paneling.

Feel free to phone in your order. Call (866) 983-3267 M-F.

Warranty Information
Find Similar Products by Tag
Product Reviews
Find Similar Products by Category
Customers also viewed