Our Products:
Our Products:
Brands
Brands
1/4" Black Forest 2 Inch Beadboard Channel Profile Paneling 4 x 8
1/4" Black Forest 2 Inch Beadboard Channel Profile Paneling 4 x 8
| Total Quantity | Base price per unit |
| --- | --- |
Discounts will appear in cart
Total quantity of 4x8 paneling in cart determines price per panel.
List price reflects purchase of at least 15 units.
Product Description

We're proud that our plywood panels are made of layers of high quality hardwood veneers. The paneling is a medium density Class 2 plywood that is far superior to other paneling products because it won't expand and contract as the humidity and temperature changes. All of our plywood paneling carries a Class C Fire Rating of 200 or less, and more specific information is on the label on the back of each panel.
Laminated panels require no additional finishing. Laminated plywood paneling has a high resolution photograph imprinted on quality paper that is then laminated to the plywood core using pressure, heat and adhesives in our manufacturing process.
The panels are shipped on a Common Carrier truck (an 18-wheeler) because the pallets are too large to ship UPS or FedEx. When we have a residential delivery, the carrier will phone as the shipment nears its destination terminal to make a curbside, at the street, delivery appointment. You should have able-bodies people there to help with the delivery. You should also perform a shipping damage inspection, and you'll need someone to help you move product from the curb up to the house. Normally, residential deliveries will be on a truck with a lift-gate to help bring the paneling skid to the ground.
Ordering the Incorrect Product or Wanting to Return Product.
If you mistakenly ordered the wrong product or you need to return it, you must pay the freight charges and a 35% restocking fee to send it back to the factory, American Pacific 520 Salem Avenue, Holly springs MS 38635. Also the product must be sent back in the original package and banded or stretched wrapped for return shipment. Once the product has been returned and inspected then you will be issued a credit less freight and restocking fee.
Black Forest 2" Beadboard Channel Profile Paneling - Laminated and requires no additional finishing
Strong wood graining marks this dark brown (near black), richly grained and intensely elegant 4' x 8' designer styled beadboard paneling.

Specifications: 48" x 96"
5.2" thick (~ 1/4")

5.2mm plywood has structural strength and may be attached directly to studs

Plywood has some insulating qualities

Durable laminate finish on real plywood for longevity

Plywood doesn't expand and contract with changes in temperature and humidity

Double grooves 2" apart

recommended for Interior use

Minimum purchase ten 4 x 8 sheets (full size or cut)

A FREIGHT SURCHARGE MAY APPLY TO CA, OR, WA, NY and other select locations
IF YOU HAVE DAMAGE IN SHIPPING YOU MUST SEND A CELL PHONE PHOTO OF ALL THE DAMAGE AND A PRODUCT CLAIM WILL NOT BE PROCESSED WITHOUT THESE PRODUCT PHOTOS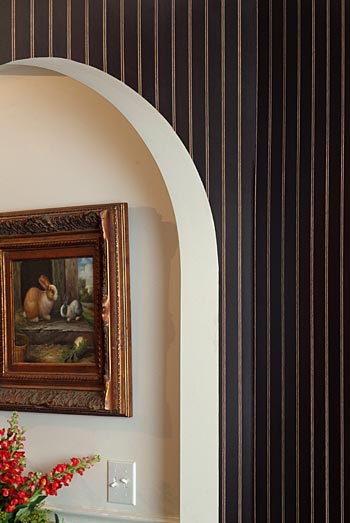 Warranty Information
Find Similar Products by Tag
Product Reviews
Find Similar Products by Category
Customers also viewed